Does your Dashboard Creation Pipeline look like this?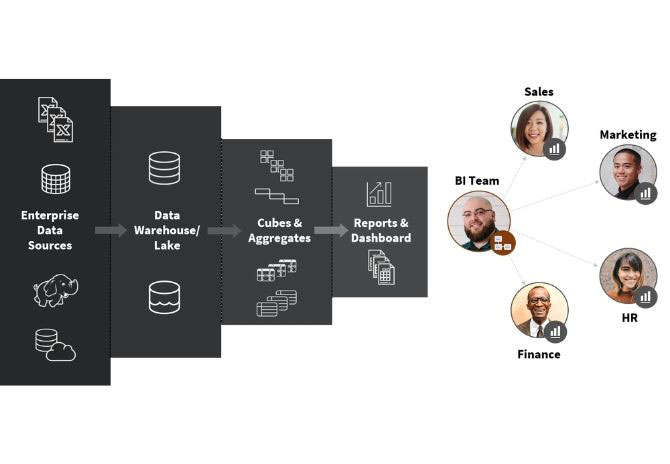 Across all the companies we work with, the typical pipeline looks like this. It might look painfully familiar to you.​
You probably have data scattered in tables across dozens of data sources which your data teams must extract and put through a complicated ETL process to simplify the data model.​
Then the data needs to be moved into a data warehouse or data lake for centralized storage. In order to get around performance issues, you have to segment data into data marts, and then summarize data even further into cubes and views.​
It can take almost two months before the business gets a usable data set they can get insights from
And we haven't even touched on the skill required to create dashboards – which given the complexity of today's analytics products takes days and requires highly skilled data analysts to use. Even if you make it all the way through this nasty pipeline, that dreaded "next question" from the business person often sends you back to square one.​
This is why most companies are plagued with a massive reporting backlog
Simple. Smart. Fast.
So what makes ThoughSpot different?
1. It's Simple- With easier access to all the data, SME's team of experts empowers everyone in your organization to make smarter decisions.
2. It's Smart - This isn't any old Artificial Intelligence. With SME's expertise and the power of ThoughtSpot's SpotIQ, you have the power of a thousand data analysts efficiently detecting anomalies, identifying root causes, and uncovering opportunities you might never have thought to ask.
3. It's Fast - We help our clients uncover granular insights from billions of rows in seconds, not days or weeks.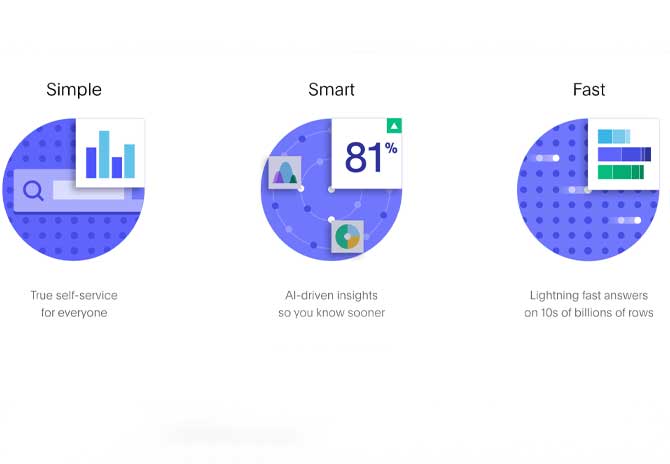 The Power of SME + ThoughtSpot
Know why you want analytics -SME helps you define your problem and business objectives up front
Plan for measurement and metrics before you begin -SME helps you define success early and then helps you stay laser-focused on reaching it
Work with Business Users-SME works with your company's business users to understand their process, what insights matter, and achieve true business value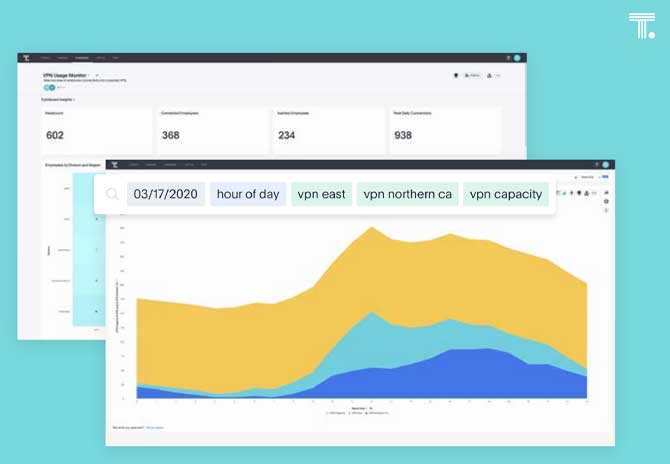 Get a Development Workflow That increases your ROI. Fast!
With our experience with Change Management, we know it starts with proper planning in order to deliver a solution or product timely and effectively for a successful implementation.
We're meticulous on setting & defining the requirements, processes, testing, and we make sure we meet our key deliverables. This is typically a 4-6 week roll-out. Check out a typical QuickStart Plan below.
SME'S QUICKSTART PLAN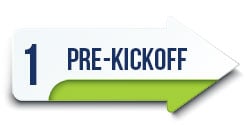 This phase occurs 2-3 weeks prior to the start of implementation and is focused on preparing our combined teams to decrease the time to value for your investment. ...
Result: Kickoff Ready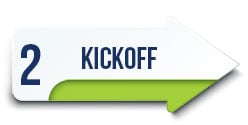 The kickoff phase is crucial to success because our Customer Success Architects and Adoption Specialists will dive into what defines a good ThoughtSpot use case for your business. ...
Result: Launch Kickoff Summary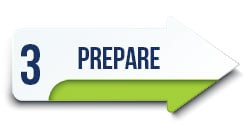 We work together to define your first use case and ensure it is focused on solving a true pain point your business is facing. During this phase, we take that use case and start to "prep for search." ...
Result: Remote Sprints Ready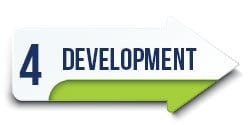 The development phase hinges on building out worksheets, Pinboards, and synonyms. You will start to see your use case come to life. We use the determined data model and security requirements as a foundation. ...
Result: Prepped for Search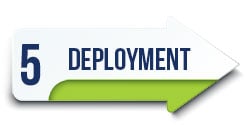 Testing and quality assurance efforts will be the bulk of this phase to ensure a smooth release to your end-users. During this phase, we will work with you to test the worksheets and Pinboards. ...
Result: Ready For End-User Rollout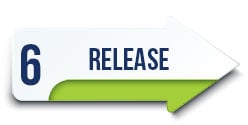 During this final phase of the QuickStart, our Customer Success & Adoption Specialist will provide training to promote end user engagement. ...
Result: Use Case in Production
With SME's years of experience and ThoughtSpot's search & AI-driven analytics, your employees will be able to ask any question, find insights, and drill infinitely into company data in seconds.
The Future of Executive Dashboards
Find out why we call this Executive Dashboarding 2.0. With the ease and power of ThoughtSpot's Pinboard features, the chapter of "setting it and forgetting it" is coming to close.
Now Executive Dashboards are as flexible as you want, respond instantly to new questions, and the mobile version isn't just a scaled version of the desktop.
Want to browse all of our ThoughtSpot videos? You can subscribe and watch all of them here.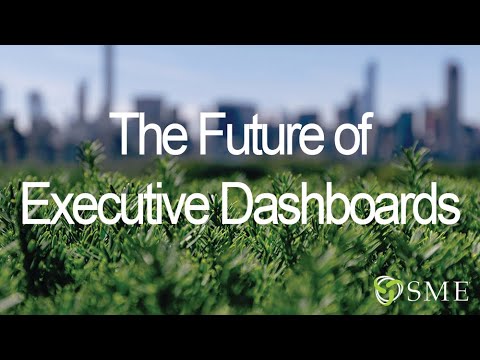 SME's 2 Minute Drill
Have you ever wished there were short, simple videos that taught you everything you needed to know about ThoughtSpot? We did too. That's why we created the SME 2 Minute Drill series. With nearly 50 videos to choose from, you will learn directly from our own Solutions Engineer, George Barrett.
This "Getting Around" video is the first in the series, but we promise the series digs deep into ThoughtSpot and covers all of your questions. You can watch the entire series here.
What's better than just watching these 2 minute drills? Working alongside with the same exact dataset. Simply click here to download it.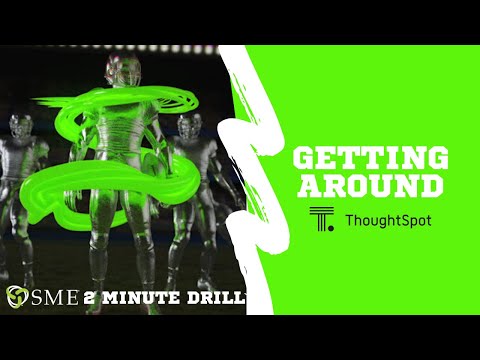 "It's So Easy, An Executive Can Do It"
Sometimes you need to make data-driven decisions as an Executive and cannot wait for your team to be online day or night. But as SME President and CEO, Chris Moyer explains, "ThoughtSpot makes self-service analytics easy. Whether to identify issues, drill-down and ask new questions, find the root cause, or just easily share the results with your team, it can all be done before the sun comes up."
This is our first video in the series "It's So Easy An Executive Can Do It" where Chris brings his unique experience as both a CEO and leader of SME. We are adding new videos to this series all the time, so click here to subscribe and watch them all.
Here are a few of our popular resources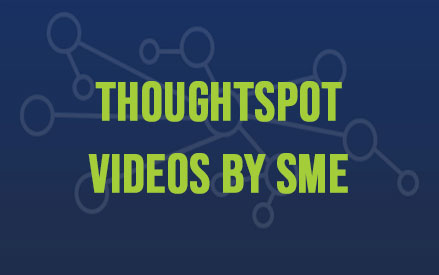 Video
Seeing is believing when it comes to simplifying and speeding up how customers are analyzing data with ThoughtSpot.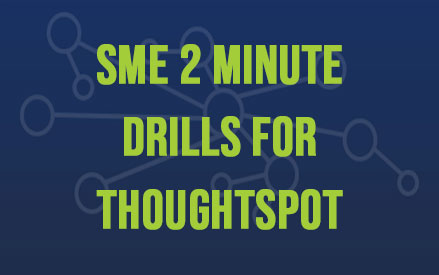 Video
Our team has produced nearly 50 videos, all 2 minutes or less, that cover everything you need to know about using ThoughtSpot, from getting started to R scripts and beyond.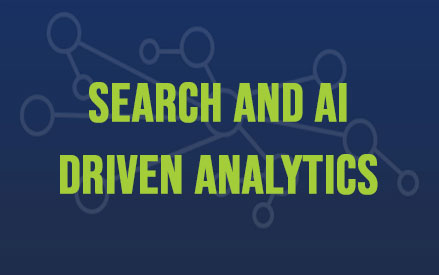 NEXT GENERATION ANALYTICS
ThoughtSpot makes searching your data for answers as easy as using Google. It is like having the power of 1,000 analysts in your hand.
OUR OTHER BI VALUE QUADRANTS