The vibrant city of Las Vegas recently played host to one of the most anticipated events in the realm of data management and analytics—the Snowflake Data Cloud Summit. This event brought together industry experts, data enthusiasts, and tech visionaries from across the globe. The event had exciting keynotes, breakout sessions for different Snowflake personas, and two expo halls where hundreds of Snowflake partners showcased their technologies. Attendees deep-dived into the transformative power of the data cloud, gaining insights into cutting-edge technologies like Apache Iceberg and the evolving landscape of data warehouses.
Here are some of the key takeaways that we brought back from the trip:
New Product Releases and Updates
Data sharing has experienced tremendous growth and expansion through the use of "Apps". Accounts can bypass data loading and even transformations by having Snowflake accounts share the data directly to the recipient. This capability is also being utilized by SaaS tools including ServiceNow and Stripe, who can share customer data directly across Snowflake accounts instead of requiring an ETL/ELT process or tool.
Snowflake Container Services introduces a massive expansion of Snowpark, allowing customers to bring LLMs, full-stack apps, and their data products directly to the data. The services also came with the announcement of launch partners, allowing customers to run hosted notebooks, orchestration, and other AI/ML applications securely.
Snowflake continues to make advancements in the type and delivery of customer data in their platform. As announced last Summit, Apache Iceberg tables are receiving an update to allow for metadata to be performed by Snowflake or an external system. Unistore and Dynamic tables were also on display, allowing for transactional and streaming workloads to be performed in addition to the traditional OLAP use cases. Finally, Snowflake is providing customers with unstructured data capabilities through the use of its new tool Document AI.
Partner Ecosystem
As Snowflake grows and matures, so does the partner ecosystem. Analytics, data integration, governance, monitoring, and other technology focuses showcase that the Snowflake ecosystem serves as an end-to-solution across a wide range of workloads. Snowflake also announced its partnership with NVIDIA, strengthening its position in the world of LLMs by leveraging generative AI.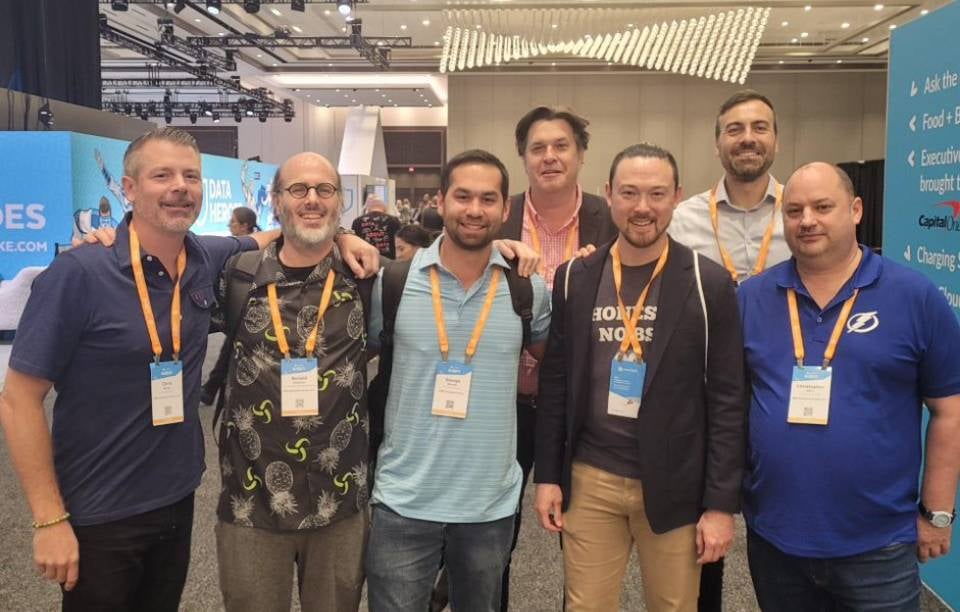 Wonderful time strategizing and learning with our partners at data.world during the Snowflake conference. Special thanks to Ray Hines, Daniel Shah, and Tim Gasper for their faith in the SME Solutions Group team to support their customers and build a great partnership together. Looking forward to continuing the success and delighting our joint customers.

Christopher Moyer, President & CEO of SME Solutions Group, Inc.
Conclusion
The theme is pretty clear amongst these updates: Snowflake is heavily investing in the world of generative AI and LLMs. And it is without a doubt that Snowflake is trying to tap into the data science and machine learning use cases of Spark and Databricks, who held their conference in San Francisco the same week. Snowflake's vision is to create a data platform in the cloud for every workload regardless of data type, volume, or speed. And by continuing to innovate on building use cases that keep the data where it resides, Snowflake will remain a leader in cloud space.
As the curtains drew to a close on this remarkable event, the Snowflake Data Cloud Summit in Las Vegas left an incredible mark on the data industry. It served as a catalyst for change, inspiring organizations to embrace the transformative power of the data cloud, harness the potential of Artificial Intelligence (AI), and rethink the very foundation of their data warehousing strategies.