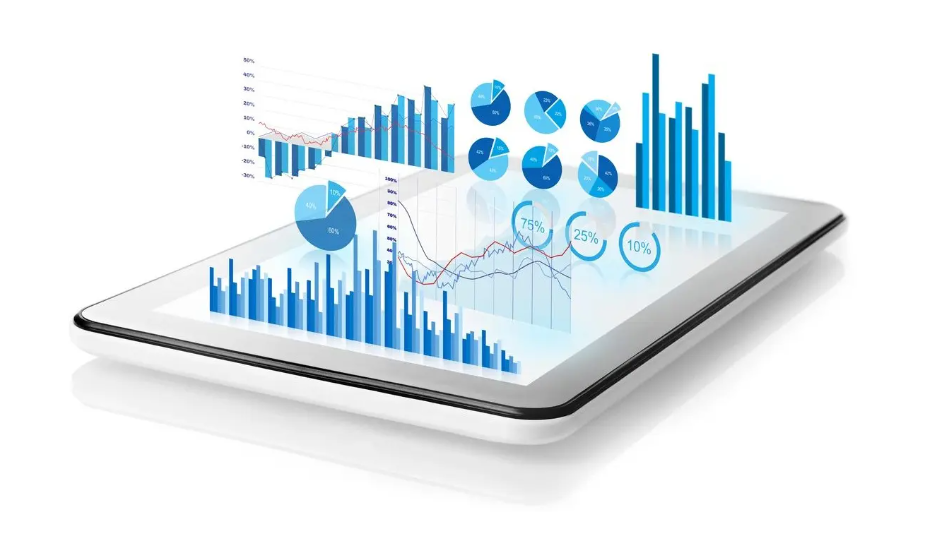 Unlocking the Power of Your Data with Innovative Analytics Solutions
Business analytics consulting and technology can help organizations to gain insights and make data-driven decisions. Our team of experts can provide guidance on how to collect, analyze, and interpret data to identify opportunities for improvement, optimize operations, and increase profitability.
If you're interested in leveraging a business analytics solution to improve your organization, our team can help you get started with a BI assessment. We'll work with you to understand your unique needs and goals, and provide insights and recommendations on how to optimize your BI strategy for maximum impact.
Business Analytics Tools and Technologies
Turning data into insights.
Data-driven decision-making made easy. Our analytics tools and consulting services are designed to help businesses harness the power of their data. We take a collaborative approach to working with our clients, helping them identify key metrics and develop actionable insights that drive growth and success.
Data analysis
Applying statistical methods to interpret data, revealing insights that inform decision-making. Tasks encompass data mining, predictive modeling, and reporting.
Data visualization
Creating visual representations of data, in order to make it easier to understand and communicate. This includes tasks such as creating charts, graphs, and dashboards.
Data management
Ensuring that data is accurate, complete, and up-to-date. It includes tasks such as data cleaning, data integration, and data governance.
Strategy development
Leveraging data analysis insights to inform strategic decision-making, including KPI identification, goal setting, and action plan development.
Visualize Your Data Story
Analytics & Dashboard Development
Augment and enhance human intuition with AI-powered insight suggestions, automation, and natural language interaction. Gain valuable insights in less time with applications designed and built by industry experts. Based on real-life business workflows and a comprehensive set of KPIs, we ensure you get the most value from your analytical tools.
From Dull to Dynamic Reports
By assessing your current data landscapes and pain points, our team can strategically plan how to successfully migrate your current reports into a new BI platform - such as Power BI. By replacing legacy systems, organizations can better weave data science models and machine learning algorithms into their BI Program's strategy.
From Dashboard in a Day training to Administration training, SME's BI experts educate your technical and non-technical team members with your own data for better visibility, education, and empowerment. Enterprise-wide training improves user adoption and promotes data literacy, all of which progresses the maturity of your BI Program.
Data-Driven Insights to Optimize Your Operations and Drive Growth
Unleash the Power of Business Analytics with Our Consulting Services
In today's fast-paced and highly competitive business environment, organizations need to leverage a modern business analytics solution to use their data for a competitive edge. Our business analytics consulting services help clients harness the power of data to make informed decisions, optimize their operations, and drive growth. Whether you're looking to improve efficiency, increase revenue, or reduce costs, our team of experienced consultants can provide valuable insights and tailored solutions, including a business analytics solution, to meet your unique needs.
Data-Driven Solutions
Our business analytics consulting services provide valuable insights and data-driven solutions to help clients make informed decisions and optimize their business operations.
Advanced Analytical Tools
We utilize advanced analytics tools and techniques to identify patterns, trends, and opportunities that may not be immediately apparent, helping clients to uncover hidden value and potential.
Experienced Consultants
Our team of experienced consultants works closely with clients to understand their unique needs and challenges, developing tailored strategies and solutions that deliver measurable results and drive growth.
EMPOWER EVERYONE TO MAKE DATA-DRIVEN DECISIONS
Harness Your Data with SME
While most companies today have an abundance of data, many lack the ability to translate that data into useful insights that can help drive their business, minimize risk and propel growth. At SME, we are committed to changing that by providing exceptional business analytics consulting services.
124+
Customers
We are proud to have worked with over 124 satisfied customers, delivering exceptional service and quality solutions to meet their unique needs.
74+
BI Implemetations
With our extensive experience in business intelligence, we have successfully completed over 74 BI implementations for various clients, helping them to gain valuable insights and make informed decisions.
14+
Technology Partners
We have established partnerships with over 14 top-tier technology providers, ensuring our clients have access to the latest and most reliable technologies to support their business operations and digital transformation initiatives.
Make Data Your Greatest Asset
At SME, we understand that data is one of the most valuable assets for any business. Whether you're a small startup or a large corporation, data can provide valuable insights into your customers, operations, and market trends. By harnessing the power of your data, you can gain a competitive edge and drive growth.