With SME Solutions Group and data.world, you can leverage their expertise and platform to build your data-driven future with modern Data Enablement. data.world provides a collaborative and integrated environment for managing, sharing, and analyzing data, while SME Solutions Group offers their guidance and support in developing data strategies, implementing best practices, and driving successful outcomes. Together, they empower organizations to unlock the full potential of their data and harness its insights to fuel informed decision-making and innovation.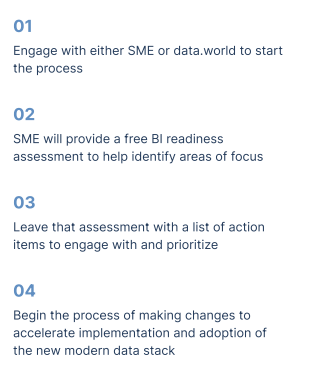 Many companies are just one wrong dashboard away from losing all trust in their data and their infrastructure. That's where data.world, The Data Catalog Platform, comes in. data.world not only helps companies provide the necessary context and trust in their data but also makes migrating to the cloud easier. With its comprehensive data catalog capabilities, data.world enables organizations to document, discover, and understand their data assets, making it simpler to identify which data needs to be migrated and how it should be structured in the cloud environment.
By leveraging data.world's platform, companies can streamline the migration process by capturing essential metadata, defining data lineage, and ensuring data quality. This ensures a smooth transition to the cloud, minimizing the risks and challenges often associated with data migration projects. With data.world, organizations can confidently navigate their cloud migration journey while maintaining data integrity, fostering collaboration, and driving effective change within their organizations.
SME provides a level of expertise and agility to help companies understand the maturity of their data practices and provide a level of service that is right there when you need it. SME helps with technology selection, including evaluating and choosing the right cloud vendors, as well as developing data strategies and providing implementation acceleration for companies of any size. SME also specializes in providing migration plans to move data to the cloud for the utmost scalability and accessibility.
Engaging with SME in a free readiness assessment will give you an understanding of what's working, what could be improved, and how to take the first steps, including insights into a migration plan for your data-driven future.
Engage with SME: https://www.smesgroup.com/bi-assessment
Request a demo with data.world: https://data.world/product/schedule-a-demo/