Tampa, FL – SME Solutions Group, Inc. is excited to reflect on its Christmas in July giving campaign, which ran from July 1 to July 31, 2023, back for its second year. This annual campaign is a way for the company to spread joy and generosity during the summer months and give back to the community.
Throughout the month of July, SME made donations to local charities and organizations. The company has partnered with several nonprofits that focus on providing technology and data for good, as well as organizations that support children's education and healthcare. Through these partnerships, SME Solutions Group aims to foster positive social change, enabling nonprofits to focus on what truly matters: making the world a better place.
"We're thrilled to be able to give back to the community in a meaningful way, especially during a time of year that doesn't traditionally focus on giving," said SME CEO Chris Moyer. "Our hope is that this campaign will inspire others to spread kindness and generosity all year round."
This year's Christmas in July benefited 6 amazing nonprofits based in Tampa, FL.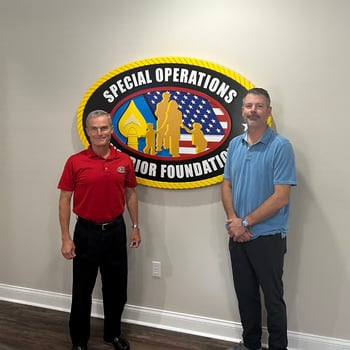 In honor of the 4th of July, the first week of SME's Christmas in July was dedicated to spreading awareness and providing financial support to Special Operations Warrior Foundation (SOWF). They provide full educations and additional educational opportunities, "cradle to career" (preschool – college), for the surviving children of Special Operations Forces (Army, Navy, Air Force, and Marine Corps) lost in the line of duty as well as children of all Medal of Honor Recipients. SOWF also provides immediate financial assistance to severely wounded, ill, and injured Special Operations Personnel — today and in the future.
These funds are intended to aid their overarching mission and cater to their technological requirements, which encompass providing laptops for their students!

The second week of the month was dedicated to supporting another organization's Christmas in July. This Christmas in July is a month-long community-wide fundraiser to help raise funds for activities, experiences, and toys for St. Joe's Kids. A cancer diagnosis, catastrophic injury, or other illness can quickly turn a child's world upside down, replacing their carefree days with chemotherapy treatments, needle pricks, surgeries, and far too much time spent away from home. It's a lot to deal with. But their Christmas in July donation event helps bring a little Christmas magic to these kids all year long.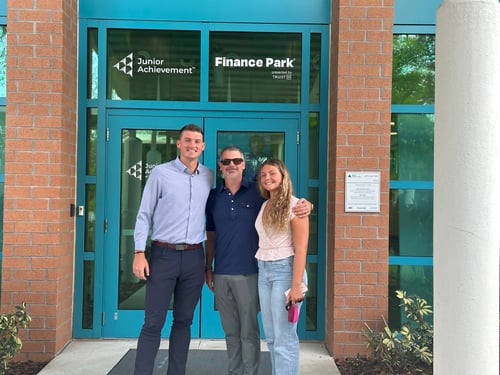 In the third week, some of the SME Team took a field trip to Junior Achievement of Tampa Bay's BizTown and FinancePark. Connecting the dots between what kids learn in school and how it's applied in the real world isn't that simple. That's where JA BizTown comes in! This engaging, hands-on program introduces 5th graders to economic concepts, workplace skills, and personal and business finances in a student-sized town built just for them. At JA Finance Park students have the rare opportunity to experience their personal financial futures first-hand.
JA BizTown was a blast to the past for SME's intern Allison Moyer who participated in the program when she was in 5th grade. (Pictured: Caleb Schillace, Christopher Moyer, and Allison Moyer)

In week four of the program, an exciting and innovative component was introduced: the giving challenge. This unique challenge provided an opportunity for the SME Team and SME Foundation to explore and learn about various nonprofits that were previously unknown to them. It was a wonderful initiative aimed at fostering a spirit of philanthropy and expanding their horizons when it comes to supporting causes and organizations making a difference in the world. Thank you to all of the organizations that told us about the nonprofits that stand out to them.
"We're really excited to bring a little bit of Christmas cheer to the middle of summer," said SME Corporate Marketing Katlyn Patzwald. "We love having other organizations join us in celebrating this fun and festive occasion, while also supporting some amazing local organizations."
To learn more about SME's Christmas in July giving campaign and the nonprofits it's supporting, contact info@smesgroup.com.
About SME Solutions Group, Inc
SME Solutions Group, Inc. brings together an exciting, comprehensive portfolio of digital transformation and data enablement services. Established in 2011, Tampa-based SME Solutions Group, Inc. has been committed to building cohesion between technology, process, and organizational goals for companies across the nation, in various industries. SME's "out of the box" solution allows companies to do more with less effort, delivering high quality analytical experiences from first engagement, right through to full data literacy. It turns data into an asset that supports businesses to learn about new opportunities, hidden threats, evolving customer expectations, and staying competitive in the cutting-edge marketplace. For more information, contact us at info@smesgroup.com