If you've been around the data analytics world for a while, you've probably heard of DataOps. While the concept of DataOps may not be new, the ideology continues to solve today's data analytics problems.
SME Solutions Group utilizes the DataOps methodology to provide solutions to our clients that transform the way they deal with data. DataOps's meaning can vary from person to person, so in this white paper we will discuss what DataOps means to SME, and how it can transform an organization to be a data-driven and collaborative culture.
We utilize our Business Intelligence Quadrants to show how DataOps is integrated into every area of our expertise. These BI Quadrants are Data Storage and Processing, Data Integration and Automation, Data Governance and Literacy, and Data Analytics and Science.
The Origin of DevOps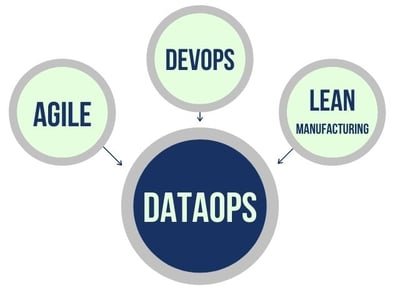 DataOps sprouts from the ideologies of DevOps, a software development methodology that intertwines software development and IT operations to create a cohesive work environment that quickens the software development process. DevOps quickly provides insights and solutions as a response to new and changing customer needs by bringing together two teams that were traditionally siloed. This ideology brought the same qualities to the data analytics world with DataOps.
DataOps borrows from several methods, including Agile Methodology, Lean Manufacturing and Total Quality Management, to implement automation, collaboration between departments, and data orchestration to deliver faster insights.
What is DataOps?
DataOps is not a singular, magic tool that will instantly solve all your data analytics problems. It is, however, a process and methodology that transforms the culture of your business. While there is not one single definition of DataOps, there are several qualities of the methodology that are agreed upon. DataOps improves the speed and accuracy of data reporting by promoting communication, collaborative, data literacy, and finding the right balance of tools to fit your specific business needs. Data analytic tools are constantly evolving and changing, but a DataOps culture ensures your business keeps up by solving your business' needs, rather than focusing on the tools themselves.
DataOps Benefits
If you are still ambivalent about how DataOps can define a business that monitors its success, let's get into some of the benefits of DataOps.
Reduced Cost

- Improved speed of data ingestion uses less resources, costing less in the long ru

n.

Increased Efficiency

- A collaborative data analytics environment helps perform reporting at a faster rat

e.

Streamlined Data Orchestration and Management

- From collection to processing to reporting, applications are synonymous and communicate seamlessly between each other

.

Faster Insights

–

The integration of technologies like AI, cloud capabilities, and searchability increase proficiency

.

Data Quality Assurance

–

Data Governance enforces quality control of all data. (Link to Data Gov blog by Emily when posted)

Parallel

Collaboration

–

Teams can work

alongside each other

simultaneously

without worry of overwriting work or losing data.
How do others define DataOps?
Since the need for improved business intelligence tools has been a hot topic for businesses looking into the future, there are several impressionable ideas of what DataOps is. DataOps, while talking about the overall improvement of a company's data analysis, can operate and look like different practices to different industries. Reading what top technology developers see DataOps as can help broaden the understanding of what it can completely do.
IBM defines DataOps as the orchestration of people, process, and technology to deliver trusted, high-quality data to data citizens fast.
Data Kitchen sees DataOps as a collection of technical practices, workflows, cultural norms, and architectural patterns that enable rapid innovation and experimentation, delivering new insights to customers with increasing velocity, extremely high quality and very low error rates, collaboration across complex arrays of people, technology, and environments, and clear measurement, monitoring and transparency of results.
The Garter definition of DataOps is a collaborative data management practice focused on improving the communication, integration and automation of data flows between data managers and data consumers across an organization.
How SME Defines DataOps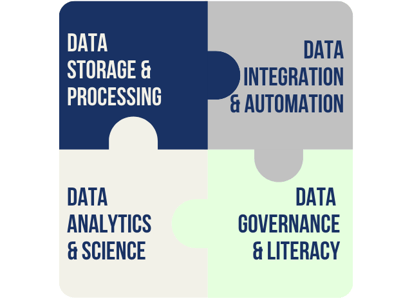 SME's definition of DataOps scopes the usage of data mining, online analytical processing, querying, reporting, and dashboard development. We section our solutions for successful business intelligence implementation into four categories, which we call the BI Quadrants. In order they are Data Storage and Processing, Data Integration and Processing, Data Governance and Literacy, and Data Analytics and Science. Each of the four quadrants works to solve unique business problems while working towards the end goal of a data driven, collaborative DataOps culture, which is why we use the BI Quadrants as our way to define what DataOps means to us.
SME always focuses on the long-term end goal of the client, and aligns their use of data storage, data processing, data governance and data reporting to achieve that goal.
How

SME

Implement

s

DataOps
SME has helped several clients over the years, but one of our proudest cases is helping administrative offices, 14 West.
"The SME team has been able to take me through everything from the roadmap as far as what we're trying to accomplish for 2020 but then also help identify some of the things that we are lacking. Things like process, project intake processes, things that we've done well, but there's always some room for refinement. Additionally, as we're working to roll out a lot of our analytics dashboards and get more adoption, they are able to come up with some more opportunities, things like using stories and Qlik Sense, for self-directed learnings and things like that. But I would say one of the biggest pieces, which is always a challenge when you're out there, and you're trying to come up with products for your organization that actually add value is understanding where products add value, where they really stop and what their parameters are."

~ Michael Bresler, 14West