With Qlik, we blend disparate data sources together to create centralized dashboards that track key metrics as part of an overall SLA score. Using a mix of KPIs, visualizations, and geospatial technology, we are able to find quick insights from data and get a heart-monitor view of call center performance.
For example, one of SME's utility clients utilizes a dashboard that highlights customers that have made contact multiple times for the same request. The dashboard automatically prioritizes these projects, whereas before there was no way of knowing if a call or online request was a repeat.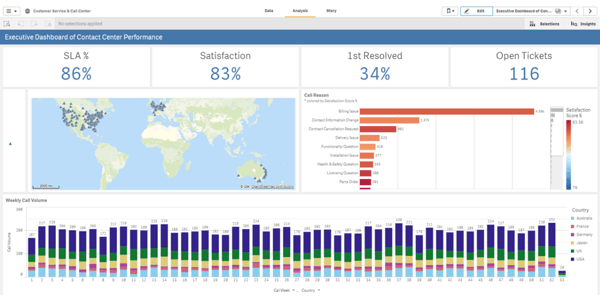 Customer Service
Resolving severe customer service tickets is crucial to maintain high satisfaction scores. But how can we quickly refine our search across an entire dashboard? Qlik's Associative Engine brings the data together to be analyzed at the speed of thought. Filtering on a data field dynamically updates every piece of these analytic dashboards. This allows you to quickly identify the key drivers for your high-priority tickets and help improve the process of decreasing resolution time. The end result: increased customer satisfaction. In addition, bookmarking specific selections allows users to return to a filter that is customized for their needs. This does not change any data, it simply remembers what you want to focus on.
An account manager can drill down to his/her accounts to ensure proper service has been provided. Create bookmarks so that each time the dashboard is revisited, his/her responsible accounts are readily visible.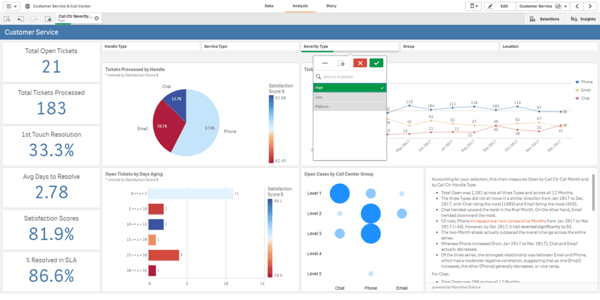 AGENT PERFORMANCE
Most of the time call centers analyze multiple metrics to identify an effective agent. Designing multiple visualizations that covers all the bases can be time-consuming and difficult for the average user. Self-service dashboards make data exploration simple and intuitive for any skill level. Using design elements like Master Items allow users to create and reuse governed metrics to be used across the entire organization. And with Qlik's cognitive engine providing augmented intelligence and chart suggestions, designing the perfect dashboard has never been easier.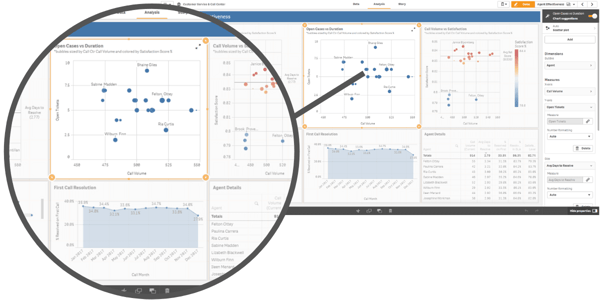 Insights & Data Storytelling
Call center dashboards produce actionable results by identifying performance trends, the most common reason for service tickets, trends in call volume, and overall call center performance.
In our sample data, March was identified as the lowest performing month. The low service level was directly related to a significantly higher percentage of calls being left unanswered compared to the other months. In this same data set, Saturdays are shown to have the highest call volume but also have the lowest service quality. A department manager now considers this information when allocating human resources and labor budgets.
Finding insights is just one component, sharing those insights is a whole piece in itself. PowerPoint presentations are useful for capturing information at a single point in time. However, this information quickly becomes irrelevant with rapidly changing data, such as open ticket volume. But with built in Story capability, create living presentations by embedding entire dashboards that refresh data at your own schedule. Experience the full functionality of your dashboards in your presentations, including selections, filters, and drill-downs. By leveraging the power of stories, you will never miss a second of your data.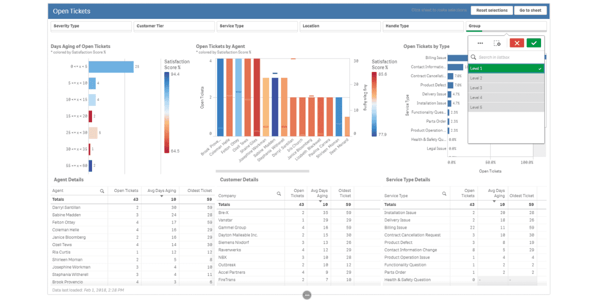 If you would like to learn more about SME Solutions Group, Inc. and how Automating performance measurements can transform a culture about service tickets to a culture about service quality, email us at info@smesgroup.com.